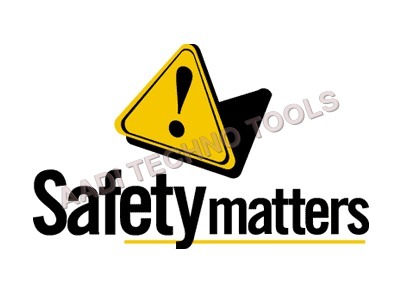 Product Description
5. SAFETY INSTRUCTIONS
For preventive accidents and safe operation, carefully read the safety Instructions, the notes described in inspection list and the operators manual before operating.
Working environment, clothes, protections
a) Operators should put on protection such as goggles, dust proof mask, safety boots, protecting caps.
b) Wheels can generate sparks during operation. Do not operate where subjected to ignition or ex plosion.
Prior to operation
a) Make sure to apply grinding fluid continuously when using it in wet grinding.
b) Do not re-profile the wheel, please return to us.
c) Do not operate when wheel shape and size don't fit the designated size of
grinder : diameter, thickness and arbour hole diameter.
d) When using ferrous core, remove applied rust proof wax.
e) When using ceramic core, inspect using sound by tapping wheel side with wooden hammer prior to installation.
f) Always use the wheel for it's intended use, do not attempt to use the side of an O.D. Wheel.
Installation
a) Make sure the grinder is OFF when installing the wheel and when removing wheel from grinder.
b) When using a ceramic core, place the paper rings between the core and the flange in order to prevent fracture, crack etc.
c) When putting a wheel on a flange, don't push by force : eg striking with hammer.
d) When using a ceramic core, make sure AADI TECHNO TOOLS label is on top and the wheel is fixed to spindle vertically.
e) Secure bolts on flanges with equal torque at each diagonal position.
Grinding Operation
a) Do not touch spinning wheel. In case of dry grinding, do not touch wheel even after grinding because it might be hot.
b) Never operate exceeding the maximum operating speed designated in wheel inspection List as well as tolerance operating speed of grinder spindle.
c) When unusual sound or vibration occurs, stop the operation and switch off the machine immediately.
d) Make a no load trial run for 1 to 3 minutes prior to operation in order to make sure the operating direction is correct and there is no vibration.
e) When processing wet, be sure to apply grinding fluid sufficiently at the point of grinding.
f) When contacting the wheel with work piece, be sure not to cut excessively. Also do not continue to operate overload.
g) When operating dry,be sure not to burn wheel.
Storage
a) After operating, if wheel needs to be removed and stored, store it in a dry and safe area.
b) Using a ferrous core, apply rust proof wax and store.
Other Products in 'General Information' category
"We are only dealing with bulk quantity order inquiries."
Factory Address

J-61, Site- V, Industrial Area, Kasna, District Gautam Budh Nagar,Greater Noida, Uttar Pradesh 201308

Correspondence Address

B- 259, Ground Floor,
Vivek Vihar, Phase- I,
New Delhi- 110095

Marketing Office

Shop No. 3459- 60/ 5 & 6, Bajarang Bali Market,Gali Bajrang Bali, Chawri Bazar,
Delhi - 110006
Contact Details
AADI TECHNO TOOLS