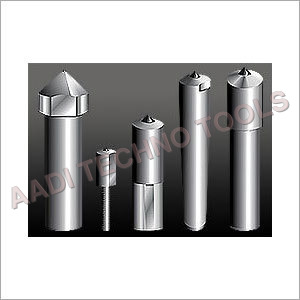 Product Description
To maintain the trust of our customers, we are offering high quality Single Point Diamond Dressers. These dressers are used used to abrasive grains from metals and to recreate the correct shape of the grinding wheel. We make use of specific quality diamonds, which are mounted in holders using special bonds. The Single Point Diamond Dressers are available in many sizes and specifications for the various needs of our customers.

Features:

Corrosion resistant
Sturdy design
Dimensionally accurate
Other details:

Single point means only one cutting edge is presented to the Grinding Wheel. These are made form selected Diamonds according to their structural strength. The proper selection of size and quality is according to the wheel Diameter and Width. With qualified judgement according to parameters and Depth of cut, Drag Angle, coolant, we offer the grade of Diamonds such as :

I) Natural Point II) Brutted Point (Congoround) for excellent results.

The Single Point Diamond Dresser is more versatile dressing tool, which is used for turning and dressing of grinding wheel. They are made of carefully selected raw diamonds mounted in holders by means of special bonds. The dressing tool takes care of two main functions, it removes abrasive grains which have become completely worn out, and it recreates the correct geometric shape of the grinding wheel.

Single point "bruted diamond" dressers are made with selected "Congo Rounds" mounted in a matrix. A Single cutting edge is presented to the grinding wheel.

Diamonds for single point dressers are selected in accordance with quality and size. The question of using a superior, average or commercial quality, depends on the grinding finish required and the machines and working parameters.

We offer three grades namely A, B & C for all the diamond size, Availability: 0.25 Ct to 5.00 Ct

Natural Point Diamonds : The Diamond points are naturally formed. (Not man made like grades A, B, & C) This is a gift of nature. Natural Point Diamond Dressers have high form retention properties. Availability: 0.10 Ct to 2.50 Ct
Recommended areas :

Dressing tool clamped as close as possible to avoid vibration
Angle of the dresser should be radial 10 ° to 15 °
Delivery up to 0.03 mm (30 microns)
Feed up to 0.2 mm
Good cooling, they must use the dressing at the start - otherwise danger of cracking
Turn to the formation of the diamond surface axially by 90 °

Timely comprise boosts efficiency
Grinding Wheel Dimension in mm
Recommended Diamond Size
Diameter
Width
In Carat
100
12
0.25
150
12
0.30
175
12
0.50
250
40
0.75
350
25
1.00
350
30
1.25
350
50
1.50
| | | |
| --- | --- | --- |
| 450 | 50 | 1.75 |
| 600 | 50 | 2.00 |
| 600 | 75 | 2.50 |
| 600 | 150 | 3.00 |
| 750 | 75 | 3.00 |
| 750 | 100 | 3.50 |
| 900 | 75 | 4.00 |

Guideline for Single - Point Diamond Dressers :

Considerable care should be taken in mounting the diamond dresser in position. Diamonds are sensitive to shock and impact.

The dresser must be clamped rigidly in place to avoid vibration once dressing begins.

An ample supply of coolant should be directed at the diamond point before dressing begins, as the sudden application of coolant to the diamond once it has heated up can cause it to shatter.

The diamond holder should not be set directly on the center of the grinding wheel, but at an angle of
5-15 to the direction of rotation of the wheel so that it appears to be "trailing"

At normal wheel peripheral speeds, dressing rates of approximately 20-25 m/sec can be achieved.

The maximum depth of cut achieved per dressing pass is 0.03 mm or on fine grit wheels,
approximately 0.005-0.01 mm. (Single Point Diamond Dressers)

The cross feed rate is dependent upon grit size and can have a marked influence on the quality of the finish imparted to the grinding wheel surface. The lower the feed rate, the finer the surface finish.

We would recommend the following feed rates per revolution of the grinding wheel.

Single Point Diamond Dressers

Grinding Wheel Grit Size

Feed rate in mm/rev

30-46

0.60 -0.30

50 120

0.30 0.10

180 320

0.10 0.02


Other Products in 'DIAMOND DRESSERS' category
"We are only dealing with bulk quantity order inquiries."
Factory Address

J-61, Site- V, Industrial Area, Kasna, District Gautam Budh Nagar,Greater Noida, Uttar Pradesh 201308

Correspondence Address

B- 259, Ground Floor,
Vivek Vihar, Phase- I,
New Delhi- 110095

Marketing Office

Shop No. 3459- 60/ 5 & 6, Bajarang Bali Market,Gali Bajrang Bali, Chawri Bazar,
Delhi - 110006
Contact Details
AADI TECHNO TOOLS